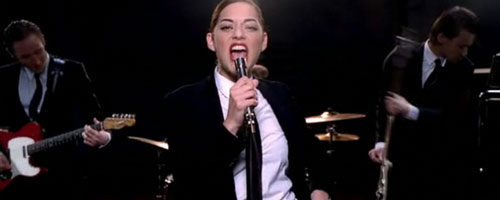 Pour le second volet de la saga Lady Dior, Marion Cotillard prend le rôle d'une séduisante chanteuse, Lady Rouge. Cette fois-ci, il s'agit d'une chanson : « The Eyes of Mars ». Elle a été écrite par le groupe Franz Ferdinand, et est interprètée par Marion Cotillard elle-même.
For this second part of the Lady Dior saga, Marion Cotillard stars as a seducing singer, Lady Rouge. This time it is all about a song : « The Eyes of Mars ». It was written by the band Franz Ferdinand ; Marion Cotillard performs the song herself.
Si vous pouvez entendre la chanson depuis un moment sur le site Lady Dior, et sur notre blog via le widget en sidebar (à droite en milieu de page), il n'y avait pas encore de « clip ». Aujourd'hui a été plublié un teaser du clip disponible sur la page d'accueil du site Lady Dior.
Le clip sera révélé le 5 mars prochain le jour même du défilé prêt-à-porter automne-hiver 2011 de Christian Dior. Hasard du calendrier ?
Donc rendez-vous ici ce vendredi 5 mars pour me laisser vos impressions sur Marion Cotillard en Lady Rouge pour Dior.
You might have heard the song for it has been online on the Lady Dior website, or on our blog via the widget in the sidebar (middle of the front page on the right). There was still no video for the song. Today a teaser was published on the Lady Dior home page.
The video itself is to be released on March 5th, just the same day as when the Fall 2011 ready-to-wear fashion show.
So rendez-vous right here next Friday and let us know how you like Marion Cotillard as Lady Rouge for Lady Dior.