Florent-Alexis Wessels Faustin
21 octobre 2009 – 9 Comments
Obligé de porter une cravate tous les jours ? Au moins de temps en temps ?
Since 1337 est une jeune marque française qui vous propose des cravates à la coupe irréprochable, et à l'esthétisme empreint de modernité et d'humour.
Do you have to wear a tie everyday ? Well, from times to times at least?
Since 1337 is a young french brand that offers neckties whose cut is impeccable and whose aesthecticism is tainted with subtlitlity and humour.
Since 1337 se réclame « pirate ». L'esprit de la marque est de faire « des cravates de geek ». De détourner l'accessoire quelque peu sérieux qu'est la cravate en lui insufflant une excentricité, une originalité auxquelles les créateurs de la marque, Philipe et Christèle, deux jeunes français pas plus vieux que moi (23 ans), sont sensibles.
Vous me direz : « C'est pas les premiers » ; et je vous répondrai « Certes, mais ils le font bien ! »
Since 1337 claims to be a « pirate » brand? The spirit od the brand is to make « geeks' ties ». To turn the quite serious necktie into a more excentric accessory. To instil the neckties a kind of originality that the two founders of the French brand (who happen not to be older than me – 23) are sensitive to.
You might say : « It is not a first » ; and I would answer « Indeed, but they do it just right ! «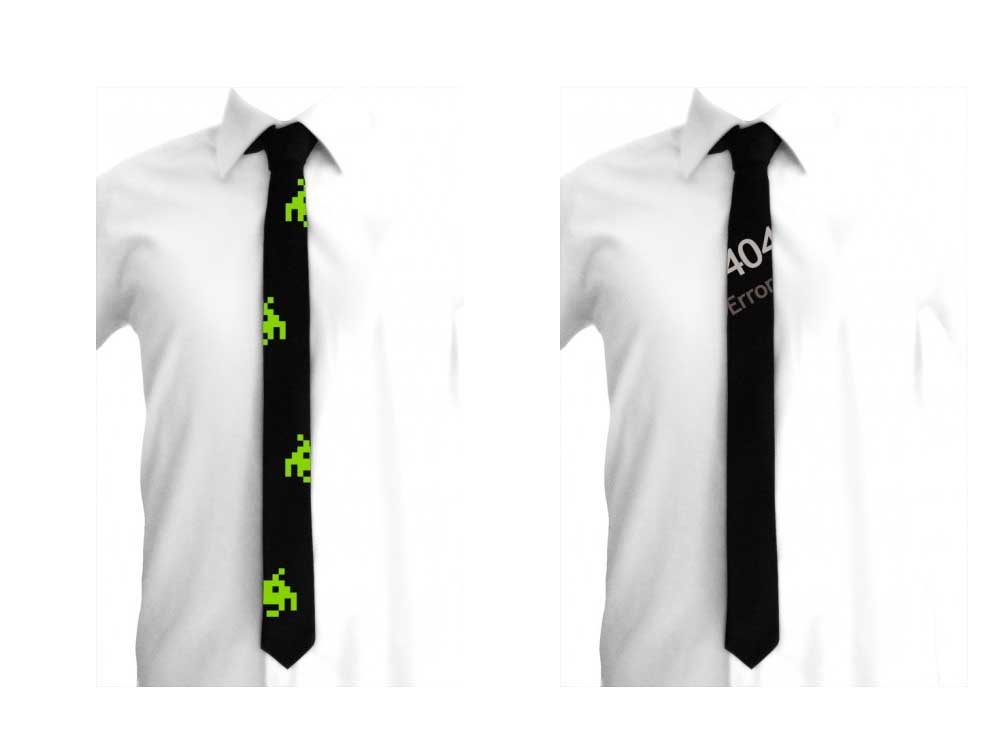 J'aime particulièrement ces deux modèles, qui illustrent bien l'esprit de la marque. La « Invaders » à gauche, et la « Employee not found » à droite, vous garantissent de vous démarquer. Sans mettre de côté l'absolue nécessité d'une coupe moderne et précise. Je suis par exemple partisan des coupes droites pratiquées ici. Une marque qui ne se prend pas trop au sérieux, c'est agréable.
I particularly like these two models which illustrate quite well the spirit of the brand. The « Incaders » tie on the left and the « Employee not found » on the right guarantee you to be noticed. Yet the absolute need of a sharp and modern cut is not put aside. I must admit I am a fan of the straight cuts of the ties.
Les modèles sont simples ; la marque n'en fait pas trop. Il nous tarde que Since 1337 élargisse sa gamme d'accessoires. Une gamme d'accessoires qui répondra aux mêmes exigences que ces cravates : une production française -à l'heure de la délocalisation-, des produits écologiquement durables fabriqués par une main d'œuvre qualifiée et justement rémunérée ; et la marque est jeune, et peu connue. Il est assez valorisant d'être de ceux qui « découvrent » une marque. A bon entendeur…
The models are simple. The brand is not overdoing. I can not wait for Since 1337 to enwiden its scale of accessories. A scale of accessories that will, just as the ties be of french fabrication, by qualified fairly paid handiwork. The brand is still young and not too famous. It is quite attractive to be one of the first to have « discovered » a good brand. I'm just saying…
Prix des cravates : 29,90
Frais de port offerts – envoi par colissimo
Boutique en ligne : http://www.since1337.com/