Florent-Alexis Wessels Faustin
8 janvier 2010 – 8 Comments
J'ai photographié le dandy du jour lors de la fashion week de Février 2009. Cet homme intègre à son style nombre de tendances actuelles, notamment celles qui me plaisent ; mais sa personnalité transparaît à travers sa silhouette. Il est clair qu'il ne  force pas.
I photographed today's dandy during the fashion week of February 2009.  He incorporates many of the current trends, notably those I do like. Still, that is his personality that shows through his style.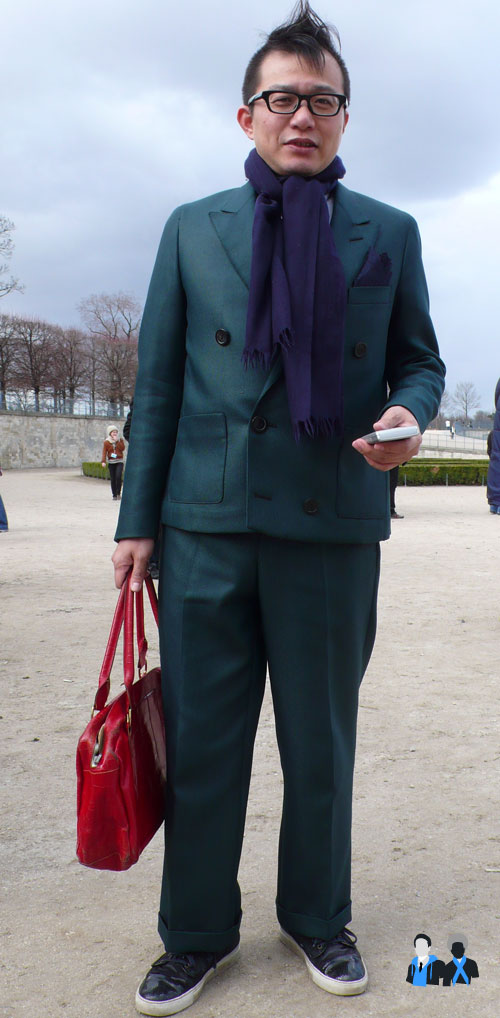 Encore un style casual-chic. Le costume voit son côté strict adouci par sa couleur verte – couleur de cet hiver ! -, sa chute sur des baskets. L'association des couleurs est absolument parfaite : pantalon et veste verts, les écharpes et pochettes d'un bleu identique, et le sac rouge pour trancher avec ces couleurs froides.
That is another casual chic look I am to praise. The strictness the suit conveys is lessened by its color – green, colour of this winter ! -, its association with sneakers.
The combination of colour is brilliant : green jacket and trousers, scarf and pocketsquare identically blue coloured, and a standing out red bag.
J'admire ce rendu décontracté du costume. La veste croisée « six-on-two », une des vestes de l'hiver, le port d'une pochette, auquel nous avons dédié un article tant cela nous semble une tendance incontournable. La pochette est là arborée on ne peut mieux, assortié à l'écharper – un exemple à suivre.  Autant d'éléments sophistiqués, mais pas strictes.
I admire this relaxed approach to the suit. This double breasted jacket, one of the main jackets of the winter, here in a « six-on-two ». The pocket square ( element we discussed in this article) that matches the scarf – an example to be followed. Sophisticated elements indeed, although not strict.
Oui, je sais ce que vous vous dîtes : » il porte quand même un sac rouge carmin le type ! « . On est d'accord, je ne porterais pas le même non plus. Ce qu'il faut voir, c'est qu'il a choisi un sac dont la couleur tranche résolument avec le reste de ses habits, unis et sobres. Un élément de couleur va attirer l'oeil, le reste est dans le détail. Dandiesque !
Yeah, I know just what you are thinking : » that dude is actually wearing a carmine red bag ! « . Well, I would not wear it myself. Still I am bound to look up to the way the bag stands out, while associated with the rest of his clothes that are quite plain, sober. One element of colour catching the eye ; the rest lies in details. Dandiesque !
Le détail jusqu'au bout du pantalon, avec un revers comme on vous l'a vanté dans cet article. Comme quoi, en hiver aussi c'est possible.
All about details, down to the bottom of the pants. Here are rolled up pants just as we praised in that article. See, even in winter, you can pull it off.